Creative Marketing
Performance Sculpture
Watch Janice as she transforms thousands of latex balloons into works of art!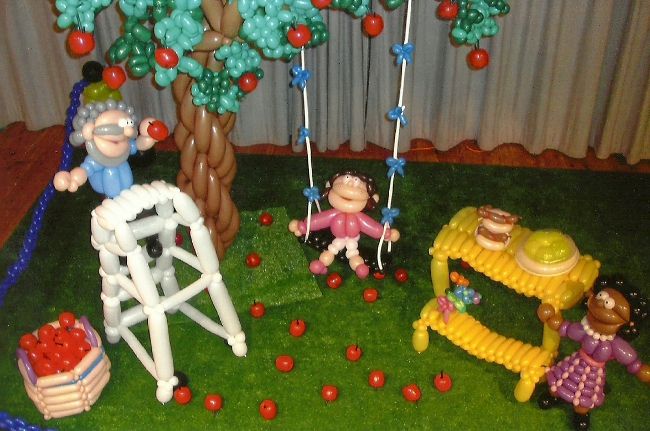 "Live balloon installations" typically run between three and twelve days, depending on the size of the sculpture and the length of the event.
During a live installation guests will visit again and again to see how the sculpture is coming along, and of course to take pictures. It's always great when I can get input from the guests regarding some of the final details of each piece. Young and old alike enjoy being part of the process. They leave with fond memories of their part in this temporary art, and, by association, your store or product line.
Call or email Janice now, before somebody else books your event's day!
Past Performance Sculpture Events
Learn more about what can be done by looking at some of the past balloon installations.
Genesee County Fair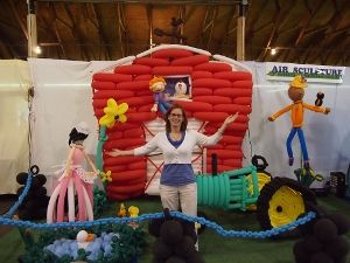 The
Genesee County Fair
in Batavia, NY included four days of Performance Sculpture. It was one of the most talked about attractions at the fair, with people coming back day after day to watch Janice build more and more of a barnyard scene.
Click here
to read more about what happened at the Genesee County Fair to get an even better idea about what can be done with Performance Sculpture to make your next event great!
Balloon Manor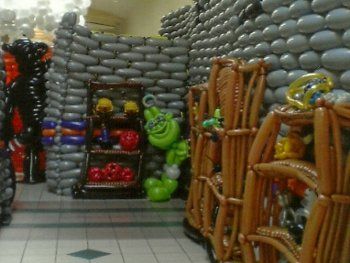 Janice was part of the Large Scale Installation of Balloon Manor, a community project in Rochester, NY.

Attention to detail is the key to bringing any sculpture to life.

Each work of art is unique and special. Janice really listens to her clients, and makes displays that will fit perfectly with their event.
St. Mary's School for the Deaf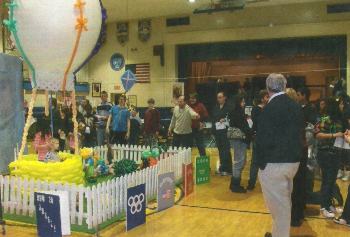 In this display at St. Mary's School for the Deaf in Buffalo, NY, guests were able to walk in to the balloon basket through an opening in the back for photo opportunities.
Niagara County Fair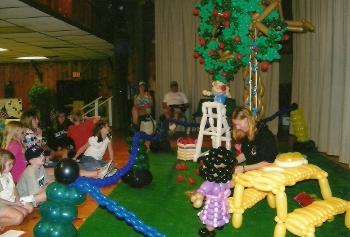 Janice sculpted a detailed picnic scene while guests watched for a performance sculpture at the Niagara County Fair in Lockport, NY.
Call or email Janice now, before somebody else books your event's day!
Balloon Fashion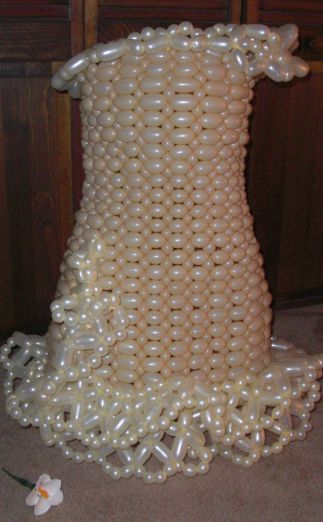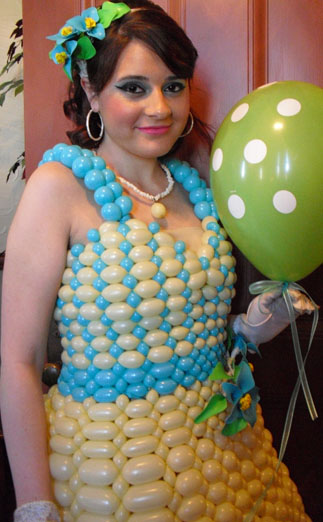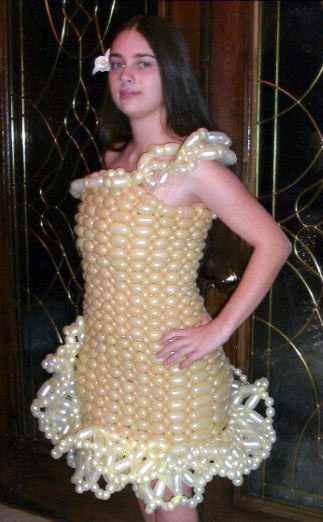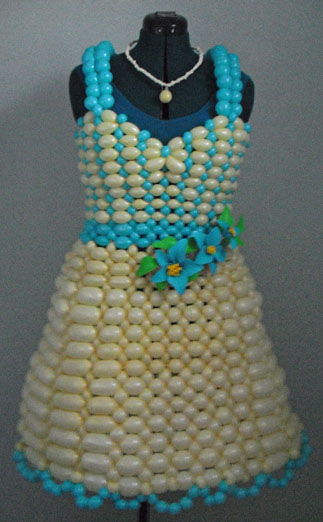 is Wearable Art
Each piece is custom designed for your event.
It may just be the most memorable clothing you will ever see.
Draw attention to your booth, storefront, or event with balloon couture and give your company a marketing edge with this
Two Part Marketing System
Part one:
Sculpting balloons into fashion is so unique it draws crowds just to watch the process. Janice will create wearable art on site as performance sculpture. The best part is customers don't just visit your area once. They stop back again and again to check on the progress of the outfit.
Part two:
Fashions are custom fit to be worn by you or a model of your choice. Wearing balloon fashion attracts customers. Everyone has to get a closer look. Take this opportunity to pass out advertising or talk about your product. Allowing people to take pictures with your model is a sure way to get talked about even after the event has ended.
Call or email Janice now, before somebody else books your event's day!
| | | |
| --- | --- | --- |
| | - - - The Possibilities are Endless - - - | |