Performance Sculpture at the Genesee County Fair
Take a look at an example of what Air Sculpture can bring to your event!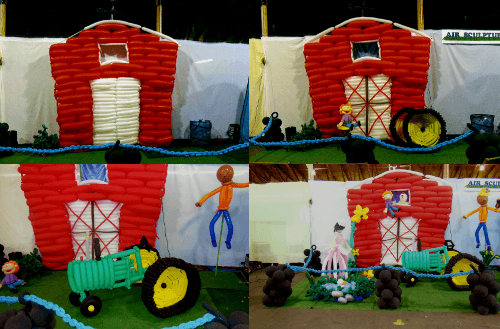 Coming to life
The Performance Sculpture (live balloon installation) at the
Genesee County Fair
took place over the course of four days in July, 2012.
By the end of the first day, a fence blocking of the sculpture area and the nearly 8 foot barn backdrop was complete. As the days went by, more and more details were added to the diorama: a duck pond, a scarecrow looking at a crow on his shoulder, a lady throwing seed to baby chicks, a boy stealing eggs from a hen... and the featured piece for this display: a large green tractor with yellow wheels. With new things being added every day, it gave people a great reason to make sure they kept coming back!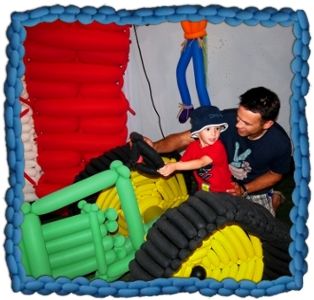 Built-in Photo-op
Upon request, Janice will build a photo-opportunity into each Performance Sculpture. In this display, the large tractor was built with a real seat. Everyone was excited to hop on and take a picture. Photo spots are always a big hit. Really... when is the next time they will get an opportunity to sit on a tractor made out of 200 long skinny balloons?

Crowd-pleasing demonstrations
Balloon Demonstrations were scheduled twice a day during the fair. Topics included how balloons are made, shapes, sizes, and colors of balloons, and balloons in our environment. After the demonstrations came the hands-on portion. Everyone had the opportunity to make a doggie shaped balloon. Then, all the balloons were twisted together to create a piece that was used in the actual display (either as a bush or around the duck pond).

Want something else?
This is just one example of what a performance sculpture event by Air Sculpture can be like. Balloon sculptures and performances can be twisted to perfectly match your event.
Call or email Janice now to schedule your event!