Janice's Award Winning "Little Miss Muffet" sculpture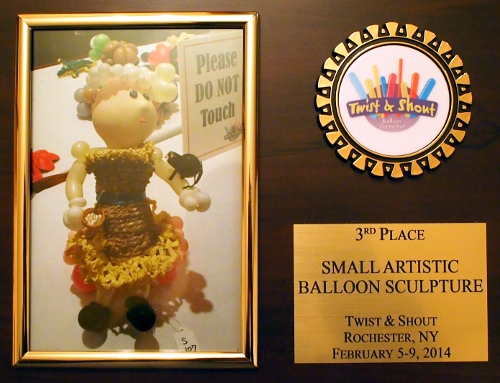 About the Piece
Janice used various techniques to complete this one of a kind sculpture. For example, the head was accomplished using two different color round balloons (one inside the other), creating an uneven tone when stretched. The round balloon shape was then distorted by inflating a number of balloons inside the uninflated (double stuffed) round balloon. The details on the face were achieved by using the rolled nozzels of various sized balloons.

Little Miss Muffet's dress was a long time in the making, as Janice explored innovative techniques to create balloon cloth. To accomplish this, balloons were inflated and twisted into a dress. The dress was then stuffed to keep its shape, and allowed to slowly deflate, unstuffing gradually as it shrunk. Finally, the dress was frozen to give it a more cloth-like appearance.
Bring Janice's award winning Air Sculpture to your event by calling or emailing!