Create a buzz at your next event with Performance Sculpture! Click to Learn More

The Possibilities are Endless!

Janice's award winning "Little Miss Muffet" sculpture! Click to Learn More
Weddings
Give some extra attention to the young (and young at heart) guests on your special day! When the children are happy, their parents are happy.
Balloons also work for Bridal Showers, Engagement parties, and more!
Click to Learn More
Any Special Event
Bar Mitzvahs, Birthday Parties, Family Reunions, First Communion... Balloons can add to the fun at almost any event! Contact Janice to see what balloons can do for you!
(716) 692-7780
Welcome to Air Sculpture,
I'm Janice Spagnola and I transform hundreds to thousands of latex balloons into amazing works of art. Balloons attract business. Balloons make family events unforgettable. Balloons make education fun.
Look through my website to see how balloons can work for you. Even if you don't see exactly what you are looking for, be sure to e-mail me or give me a call.
P.S. If you'd like to learn more about me and my history as a family entertainer, feel free to read my biography page.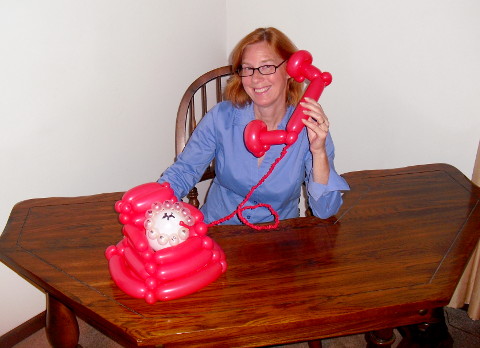 What are you waiting for? Give me a call!
(716) 692-7780